Austrian Game Developers United on Steam
Vienna, Austria – 18. June 2021
For the first time Austrian game developers present their creativity united on the worldwide largest distribution platform Steam during the upcoming weekend and show off numerous award-winning games Made in Austria, developed by the small in scale but high quality delivering local scene.
The worldwide largest PC gaming distribution platform Steam highlights the Austrian game developers this upcoming weekend with a featured themed sale – Games Made in Austria – prominently on their landing page.
This unique display of creative accomplishments by local game developers draws the attention to the industrial location Austria, that hasn't been perceived as source for game development on the global map of the games industry.
The courageous proceeding of the Pioneers of Game Development Austria as well as the tireless efforts of individual founding members united the entire local scene, offering a passionate worldwide audience an exciting medley of more than 40 titles created in Austria. Amongst them several award-winning as well as visual stunning games like Old Man's Journey from indie developer Broken Rules, games leading in the simulation genre like the Bus Simulator franchise from stillalive studios, but also bestsellers in millions like SpongeBob SquarePants: Battle for Bikini Bottom – Rehydrated from Viennese studio Purple Lamp / THQ Nordic.
Providing visibility for the local scene puts the spotlight on the progressive opportunities the industrial location Austria offers in such important as well as promising areas of digitalization; in particular software development. Building upon the outstanding work of all educational facilities across the country, both secondary and tertiary education, which have been providing the road to success for Austrian's game developers for years, an up-and-coming commercial sector evolved unnoticed from the general public as well as politico-economic decision makers, to succeed on the globally hotly contested games industry market.
Austrian game developers offer a modern environment in a future-proof branch of trade, addressing all age groups and in comparison to other creative industries, providing a stable setting aside from precarious employment relations based upon a well equipped collective agreement.
The technical demanding and complex development of games on various distribution platforms like PC, consoles but also mobile games shows that Austria, apart from established clichés of classical music, tourism and skiing, offers aspiring successful economic opportunities in the global entertainment high-tech sector.
A complete overview of all participating titles can be found here:
https://store.steampowered.com/sale/austria
An economic overview (in German) of the Austrian game development industry is outlined in the following study:
https://www.wko.at/branchen/information-consulting/unternehmensberatung-buchhaltung-informationstechnologie/game-development-studie-2019.pdf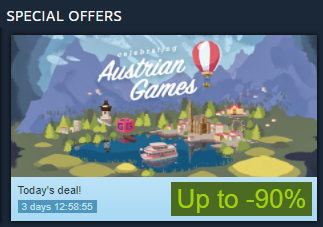 Media contact
+43/660/7938692
About Steam
Steam is the oldest and largest PC distribution platform worldwide, with 120 million active users, 1 trillion page impressions per day and 25 million concurrent gamers online.
About Pioneers of Game Developer Austria
The association of Austrian game developers was founded in 2017 by the CEOs of Bongfish, jumpandUp, Mi'pu'mi Games, ovos media, Rarebyte, rudy games and stillalive studio. The club's main objectives are the promotion of the Austrian game design industry as well as the collaboration with players from other sectors such as economy, politics and media – all to promote a positive economic and social development in Austria.
The main focus lies on showcasing the know-how of Austrian game developers in the country and internationally and on boosting the competitiveness of young entrepreneurs, the innovativeness of companies and the representation of interest towards lawmakers, social partners, media and economy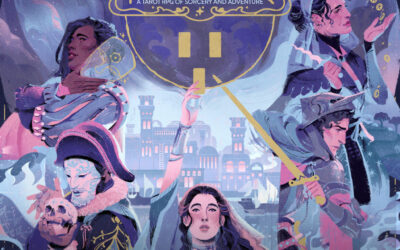 For this month's PGDA call, Austrian developers are sharing their experiences with crowdfunding on...