The PGDA is proud to present a brand new website, as well as a new board!
The new website has been completely built from scratch. With this new website, we want to have a better representation of the mission & activities of the PGDA, as well as provide information and resources for game developers and everyone else that wants to know more about the Austrian video game industry. We also translated the most important static pages of the website in German.
Presenting the New Board of PGDA
To strengthen the support and service of our association the number of board members has increased and we welcome Dietmar, Eline & Georg as leading members to the association. All three of them are well linked to and have a very high reputation within the local industry. The new team has been around for some time hence know the needs as well as struggles of developers quite well.
The new board will help to create more visibility for each single game developer in Austria as well as offer further support in the key areas of PGDAs business activities.
Become a Member
Our new website has a nice overview of all PGDA members as well as a page on how to become a member. Please check it out if you are considering to join the association, or if you want to know about the benefits and our future plans.
Industry Report
Our page of the Austrian Industry Report has been revamped to show an overview of the facts & figures of the Austrian games industry. A huge thanks goes out to Mateusz Gorecki, who created the fancy infographics, making it easier to understand the data.
Resources
We added a new Resources page that provides an overview of the Austrian game development landscape. There are several organizations and communities in the country that contribute to the growth and visibility of our industry. Please let us know if you feel something is missing!
We also wrote an article with an overview about funding for games and game companies to support Austrian developers.
Also check out our article on the history of the Austrian games industry – it goes further back than you may expect.
For press, there is a separate Press Kit that contains more information about the PGDA, as well as downloadable logos and pictures.
Discord
With the launch of our new website, we also launched a Discord server. The goal is to have an easier way for members to give input and suggest ideas for the PGDA, as well as share announcements and industry and business insights. Feel free to join!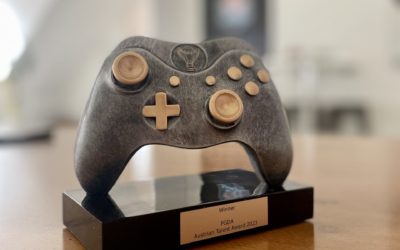 PGDA is proud to call for the second edition of the Austrian-wide Talent Award for student & scholar projectsAfter the successful...